Latin American Artists Artwork Watercolor Oil Paintings Portraits Mexico Spain Brazil
LatinAmericanPaintingsOnline.com
---
---
Gonzalo Escalante Diaz Period Early Cuban Republic oil on board
Oil on board landscape by Cuban artist Gonzalo Escalante Díaz from the Early Republic period 1865 - 1939. Measures 8 x 12 inches,signed lower left and retains its original La Venegia O'Oreilly 54 Habana gallery sticker on the reverse. Topes de Collantes, Trinidad, Cuba (Topes of Collantes, Trinidad, Cuba), ca. 1930.Gonzalo Escalante Díaz was born on January 9, 1865 in Saltillo, Coahuila, Mexico, and died on August 28, 1939, in Havana, Cuba. Escalante studied painting and music in Mexico City during 1880 to 1884 and then traveled to Madrid, Spain, where he continued studied from 1884 to 1888 at the Academy San Fernando. In 1888 he exhibited artworks at the Exposition Universal de Barcelona and shortly afterwards, in 1890 he moved to Cuba and established residency in the city of Guantánamo. There in the Oriente province of the Island he intensified his artistic endeavors, and by 1918 to 1920 he was totally dedicated to painting as the only means to provide for a family composed of his wife, Carmen Preval, and five children. His preferred subject matters were landscapes, marinas and the occasional portrait. By 1931 Gonzalo Escalante moved to Havana and there he established friendships with Fidelio Ponce and other well known artists. In 1937 he exhibited two works at the Beau Arts Salon sponsored by the Círculo de Bellas Artes. During those years the gallery and art supplies store La Venecia, located in Old Havana, represented the artist and sold his work to the public. Various Gonzalo Escalante's works are part of the permanent collection of the National Museum of Cuba, in Havana.







---
---
Clovis Graciano Signed Gravure Cuivre Prints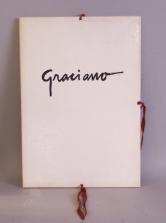 Clovis Graciano signed Gravure cuivre print 1907-1988. This folio measures 19 inches by 13 inches. See New Brazilian Art by P M Bardi page 154 or Latin American and Caribbean Artists of the Modern Era by Steve Shipp page 298 to learn more about the artist. Each of the 14 prints measures 18 and three quarter inches by 12 and three quarter inches and are signed in the plate. This edition is stamped 1280, 1966.





---
List of Famous Latin American artists

ARTNET Latin-American Art

Latin American Masters
Latin American Artists in New York -- El Museo del Barrio

Latin American Women Artists

Latin-American Artists in Asia

Latino and Latin American Artists Smithsonian American Art Museum